Raffaele Adolfo Calogero
Professore/Professoressa ordinario/a
SSD: BIO/11 - biologia molecolare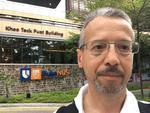 Contatti
+390116706454
+393333827080
Prof. Raffaele A. Calogero
Bioinformatics and Genomics Unit
Dipartimento di Biotecnologie e Scienze della Salute
Via Nizza 52, Torino 10126
tel. ++39 0116706454
Fax ++39 0112366454
Mobile ++39 3333827080
email: raffaele.calogero@unito.it
raffaele[dot]calogero[at]gmail[dot]com
www: http://www.bioinformatica.unito.it
Presso
Department of Molecular Biotechnology and Health Sciences
Dipartimento di Biotecnologie Molecolari e Scienze per la Salute
Cellular and Molecular Biology
Corso di Laurea in Biotecnologie
Corso di laurea in Fisica
Corso di Laurea Magistrale in Biotecnologie Mediche - Classe LM-9
Corso di laurea magistrale in Fisica
Laurea magistrale in Biologia dell'Ambiente
Laurea magistrale in Matematica
Laurea Magistrale in Medicina e Chirurgia - sede di Torino
Laurea magistrale in Medicina e Chirurgia San Luigi Gonzaga
Master Program in Molecular Biotechnology
Programma MD-PhD della Scuola di Medicina
Dottorato in Sistemi Complessi per le Scienze della Vita (fino al ciclo 35) - PhD Programme in Complex Systems for Life Sciences (until 35th cycle)
PhD in Complex Systems for Quantitative Biomedicine
PhD Programme in Complex Systems for Life Sciences (until 35th cycle)
Curriculum vitae
Curriculum Vitae (0.3 MB)
Prodotti della ricerca selezionati
Cheung P, Xiol J, Dill MT, Yuan WC, Panero R, Roper J, Osorio FG, Maglic D, Li Q, Gurung B, Calogero RA, Yilmaz OH, Mao J, Camargo FD. (2020) Regenerative Reprogramming of the Intestinal Stem Cell State via Hippo Signaling Suppresses Metastatic Colorectal Cancer. Cell stem cell [DOI PMID]
Iampietro C, Bellucci L, Arcolino FO, Arigoni M, Alessandri L, Gomez Y, Papadimitriou E, Calogero RA, Cocchi E, Van Den Heuvel L, Levtchenko E, Bussolati B. (2020) Molecular and functional characterization of urine-derived podocytes from patients with Alport syndrome. The Journal of pathology [DOI PMID]
Lecchi C, Zamarian V, Borriello G, Galiero G, Grilli G, Caniatti M, D'Urso ES, Roccabianca P, Perego R, Minero M, Legnani S, Calogero R, Arigoni M, Ceciliani F. (2020) Identification of Altered miRNAs in Cerumen of Dogs Affected by Otitis Externa. Frontiers in immunology 11 914 [DOI PMID]
Loffreda A, Nizzardo M, Arosio A, Ruepp MD, Calogero RA, Volinia S, Galasso M, Bendotti C, Ferrarese C, Lunetta C, Rizzuti M, Ronchi AE, Muhlemann O, Tremolizzo L, Corti S, Barabino SML. (2020) miR-129-5p: A key factor and therapeutic target in amyotrophic lateral sclerosis. Progress in neurobiology 190 101803 [DOI PMID]
D'Ambrosio C, Erriquez J, Arigoni M, Capellero S, Mittica G, Ghisoni E, Borella F, Katsaros D, Privitera S, Ribotta M, Maldi E, Di Nardo G, Berrino E, Venesio T, Ponzone R, Vaira M, Hall D, Jimenez-Linan M, Paterson AL, Calogero RA, Brenton JD, Valabrega G, Di Renzo MF, Olivero M. (2020) PIK3R1(W624R) Is an Actionable Mutation in High Grade Serous Ovarian Carcinoma. Cells 9(2) [DOI PMID]
Christodoulou C, Spencer JA, Yeh SA, Turcotte R, Kokkaliaris KD, Panero R, Ramos A, Guo G, Seyedhassantehrani N, Esipova TV, Vinogradov SA, Rudzinskas S, Zhang Y, Perkins AS, Orkin SH, Calogero RA, Schroeder T, Lin CP, Camargo FD. (2020) Live-animal imaging of native haematopoietic stem and progenitor cells. Nature 578(7794) 278-283 [DOI PMID]
Bassi R, Bucci EM, Calogero RA, Carninci P, Ciliberto G, Conte P, De Luca M, Corbellini G, Giordano A, Marchionni L, Massaro Giordano G, Parini A, Sbardella G. (2019) Look for methods, not conclusions. Cell death & disease 10(12) 931 [DOI PMID]
Cordero F, Calogero RA, Caselle M. (2019) BITS2018: the fifteenth annual meeting of the Italian Society of Bioinformatics. BMC bioinformatics 20(Suppl 9) 562 [DOI PMID]
Ordonez-Rueda D, Baying B, Pavlinic D, Alessandri L, Yeboah Y, Landry JJM, Calogero R, Benes V, Paulsen M. (2020) Apoptotic Cell Exclusion and Bias-Free Single-Cell Selection Are Important Quality Control Requirements for Successful Single-Cell Sequencing Applications. Cytometry. Part A : the journal of the International Society for Analytical Cytology 97(2) 156-167 [DOI PMID]
Alessandri L, Cordero F, Beccuti M, Arigoni M, Olivero M, Romano G, Rabellino S, Licheri N, De Libero G, Pace L, Calogero RA. (2019) rCASC: reproducible classification analysis of single-cell sequencing data. GigaScience 8(9) [DOI PMID]
Alessandri L, Arigoni M, Calogero R. (2019) Differential Expression Analysis in Single-Cell Transcriptomics. Methods in molecular biology (Clifton, N.J.) 1979 425-432 [DOI PMID]
Adamo A, Brandi J, Caligola S, Delfino P, Bazzoni R, Carusone R, Cecconi D, Giugno R, Manfredi M, Robotti E, Marengo E, Bassi G, Takam Kamga P, Dal Collo G, Gatti A, Mercuri A, Arigoni M, Olivero M, Calogero RA, Krampera M. (2019) Extracellular Vesicles Mediate Mesenchymal Stromal Cell-Dependent Regulation of B Cell PI3K-AKT Signaling Pathway and Actin Cytoskeleton. Frontiers in immunology 10 446 [DOI PMID]
Zucca S, Gagliardi S, Pandini C, Diamanti L, Bordoni M, Sproviero D, Arigoni M, Olivero M, Pansarasa O, Ceroni M, Calogero R, Cereda C. (2019) RNA-Seq profiling in peripheral blood mononuclear cells of amyotrophic lateral sclerosis patients and controls. Scientific data 6 190006 [DOI PMID]
Corti A, Sota R, Dugo M, Calogero RA, Terragni B, Mantegazza M, Franceschetti S, Restelli M, Gasparini P, Lecis D, Chrzanowska KH, Delia D. (2019) DNA damage and transcriptional regulation in iPSC-derived neurons from Ataxia Telangiectasia patients. Scientific reports 9(1) 651 [DOI PMID]
Yuan WC, Pepe-Mooney B, Galli GG, Dill MT, Huang HT, Hao M, Wang Y, Liang H, Calogero RA, Camargo FD. (2018) NUAK2 is a critical YAP target in liver cancer. Nature communications 9(1) 4834 [DOI PMID]
Kulkarni N, Alessandri L, Panero R, Arigoni M, Olivero M, Ferrero G, Cordero F, Beccuti M, Calogero RA. (2018) Reproducible bioinformatics project: a community for reproducible bioinformatics analysis pipelines. BMC bioinformatics 19(Suppl 10) 349 [DOI PMID]
Cerna K, Oppelt J, Chochola V, Musilova K, Seda V, Pavlasova G, Radova L, Arigoni M, Calogero RA, Benes V, Trbusek M, Brychtova Y, Doubek M, Mayer J, Pospisilova S, Mraz M. (2019) MicroRNA miR-34a downregulates FOXP1 during DNA damage response to limit BCR signalling in chronic lymphocytic leukaemia B cells. Leukemia 33(2) 403-414 [DOI PMID]
Maglic D, Schlegelmilch K, Dost AF, Panero R, Dill MT, Calogero RA, Camargo FD. (2018) YAP-TEAD signaling promotes basal cell carcinoma development via a c-JUN/AP1 axis. The EMBO journal 37(17) [DOI PMID]
Frank SR, Kollmann CP, Luong P, Galli GG, Zou L, Bernards A, Getz G, Calogero RA, Frodin M, Hansen SH. (2018) p190 RhoGAP promotes contact inhibition in epithelial cells by repressing YAP activity. The Journal of cell biology 217(9) 3183-3201 [DOI PMID]
Gagliardi S, Zucca S, Pandini C, Diamanti L, Bordoni M, Sproviero D, Arigoni M, Olivero M, Pansarasa O, Ceroni M, Calogero R, Cereda C. (2018) Long non-coding and coding RNAs characterization in Peripheral Blood Mononuclear Cells and Spinal Cord from Amyotrophic Lateral Sclerosis patients. Scientific reports 8(1) 2378 [DOI PMID]
Rodriguez-Fraticelli AE, Wolock SL, Weinreb CS, Panero R, Patel SH, Jankovic M, Sun J, Calogero RA, Klein AM, Camargo FD. (2018) Clonal analysis of lineage fate in native haematopoiesis. Nature 553(7687) 212-216 [DOI PMID]
Beccuti M, Genuardi E, Romano G, Monitillo L, Barbero D, Boccadoro M, Ladetto M, Calogero R, Ferrero S, Cordero F. (2017) HashClone: a new tool to quantify the minimal residual disease in B-cell lymphoma from deep sequencing data. BMC bioinformatics 18(1) 516 [DOI PMID]
Beccuti M, Cordero F, Arigoni M, Panero R, Amparore EG, Donatelli S, Calogero RA. (2018) SeqBox: RNAseq/ChIPseq reproducible analysis on a consumer game computer. Bioinformatics (Oxford, England) 34(5) 871-872 [DOI PMID]
Ambrosio S, Amente S, Sacca CD, Capasso M, Calogero RA, Lania L, Majello B. (2017) LSD1 mediates MYCN control of epithelial-mesenchymal transition through silencing of metastatic suppressor NDRG1 gene. Oncotarget 8(3) 3854-3869 [DOI PMID]
Fontana GA, Rigamonti A, Lenzken SC, Filosa G, Alvarez R, Calogero R, Bianchi ME, Barabino SM. (2017) Oxidative stress controls the choice of alternative last exons via a Brahma-BRCA1-CstF pathway. Nucleic acids research 45(2) 902-914 [DOI PMID]
Barzago C, Lum J, Cavalcante P, Srinivasan KG, Faggiani E, Camera G, Bonanno S, Andreetta F, Antozzi C, Baggi F, Calogero RA, Bernasconi P, Mantegazza R, Mori L, Zolezzi F. (2016) A novel infection- and inflammation-associated molecular signature in peripheral blood of myasthenia gravis patients. Immunobiology 221(11) 1227-36 [DOI PMID]
Maldotti M, Incarnato D, Neri F, Krepelova A, Rapelli S, Anselmi F, Parlato C, Basile G, Dettori D, Calogero R, Oliviero S. (2016) The long intergenic non-coding RNA CCR492 functions as a let-7 competitive endogenous RNA to regulate c-Myc expression. Biochimica et biophysica acta 1859(10) 1322-32 [DOI PMID]
Msaki A, Pasto A, Curtarello M, Arigoni M, Barutello G, Calogero RA, Macagno M, Cavallo F, Amadori A, Indraccolo S. (2016) A hypoxic signature marks tumors formed by disseminated tumor cells in the BALB-neuT mammary cancer model. Oncotarget 7(22) 33081-95 [DOI PMID]
Erriquez J, Olivero M, Mittica G, Scalzo MS, Vaira M, De Simone M, Ponzone R, Katsaros D, Aglietta M, Calogero R, Di Renzo MF, Valabrega G. (2016) Xenopatients show the need for precision medicine approach to chemotherapy in ovarian cancer. Oncotarget 7(18) 26181-91 [DOI PMID]
Caparica R, de Castro G Jr, Gil-Bazo I, Caglevic C, Calogero R, Giallombardo M, Santos ES, Raez LE, Rolfo C. (2016) BRAF mutations in non-small cell lung cancer: has finally Janus opened the door? Critical reviews in oncology/hematology 101 32-9 [DOI PMID]
Etna MP, Giacomini E, Pardini M, Severa M, Bottai D, Cruciani M, Rizzo F, Calogero R, Brosch R, Coccia EM. (2015) Impact of Mycobacterium tuberculosis RD1-locus on human primary dendritic cell immune functions. Scientific reports 5 17078 [DOI PMID]
De Robertis M, Arigoni M, Loiacono L, Riccardo F, Calogero RA, Feodorova Y, Tashkova D, Belovejdov V, Sarafian V, Cavallo F, Signori E. (2015) Novel insights into Notum and glypicans regulation in colorectal cancer. Oncotarget 6(38) 41237-57 [DOI PMID]
Galli GG, Carrara M, Yuan WC, Valdes-Quezada C, Gurung B, Pepe-Mooney B, Zhang T, Geeven G, Gray NS, de Laat W, Calogero RA, Camargo FD. (2015) YAP Drives Growth by Controlling Transcriptional Pause Release from Dynamic Enhancers. Molecular cell 60(2) 328-37 [DOI PMID]
Calogero RA, Zolezzi F. (2015) Quantifying entire transcriptomes by aligned RNA-seq data. Methods in molecular biology (Clifton, N.J.) 1269 163-72 [DOI PMID]
Beccuti M, Carrara M, Cordero F, Lazzarato F, Donatelli S, Nadalin F, Policriti A, Calogero RA. (2014) Chimera: a Bioconductor package for secondary analysis of fusion products. Bioinformatics (Oxford, England) 30(24) 3556-7 [DOI PMID]
Popovic R, Martinez-Garcia E, Giannopoulou EG, Zhang Q, Zhang Q, Ezponda T, Shah MY, Zheng Y, Will CM, Small EC, Hua Y, Bulic M, Jiang Y, Carrara M, Calogero RA, Kath WL, Kelleher NL, Wang JP, Elemento O, Licht JD. (2014) Histone methyltransferase MMSET/NSD2 alters EZH2 binding and reprograms the myeloma epigenome through global and focal changes in H3K36 and H3K27 methylation. PLoS genetics 10(9) e1004566 [DOI PMID]
Fornari C, Beccuti M, Lanzardo S, Conti L, Balbo G, Cavallo F, Calogero RA, Cordero F. (2014) A mathematical-biological joint effort to investigate the tumor-initiating ability of Cancer Stem Cells. PloS one 9(9) e106193 [DOI PMID]
Tremblay AM, Missiaglia E, Galli GG, Hettmer S, Urcia R, Carrara M, Judson RN, Thway K, Nadal G, Selfe JL, Murray G, Calogero RA, De Bari C, Zammit PS, Delorenzi M, Wagers AJ, Shipley J, Wackerhage H, Camargo FD. (2014) The Hippo transducer YAP1 transforms activated satellite cells and is a potent effector of embryonal rhabdomyosarcoma formation. Cancer cell 26(2) 273-87 [DOI PMID]
Spadaro M, Montone M, Arigoni M, Cantarella D, Forni G, Pericle F, Pascolo S, Calogero RA, Cavallo F. (2014) Recombinant human lactoferrin induces human and mouse dendritic cell maturation via Toll-like receptors 2 and 4. FASEB journal : official publication of the Federation of American Societies for Experimental Biology 28(1) 416-29 [DOI PMID]
Galli GG, Multhaupt HA, Carrara M, de Lichtenberg KH, Christensen IB, Linnemann D, Santoni-Rugiu E, Calogero RA, Lund AH. (2014) Prdm5 suppresses Apc(Min)-driven intestinal adenomas and regulates monoacylglycerol lipase expression. Oncogene 33(25) 3342-50 [DOI PMID]
Carrara M, Beccuti M, Cavallo F, Donatelli S, Lazzarato F, Cordero F, Calogero RA. (2013) State of art fusion-finder algorithms are suitable to detect transcription-induced chimeras in normal tissues? BMC bioinformatics 14 Suppl 7 S2 [DOI PMID]
Cordero F, Beccuti M, Fornari C, Lanzardo S, Conti L, Cavallo F, Balbo G, Calogero R. (2013) Multi-level model for the investigation of oncoantigen-driven vaccination effect. BMC bioinformatics 14 Suppl 6 S11 [DOI PMID]
Arigoni M, Barutello G, Riccardo F, Ercole E, Cantarella D, Orso F, Conti L, Lanzardo S, Taverna D, Merighi I, Calogero RA, Cavallo F, Quaglino E. (2013) miR-135b coordinates progression of ErbB2-driven mammary carcinomas through suppression of MID1 and MTCH2. The American journal of pathology 182(6) 2058-70 [DOI PMID]
Carrara M, Beccuti M, Lazzarato F, Cavallo F, Cordero F, Donatelli S, Calogero RA. (2013) State-of-the-art fusion-finder algorithms sensitivity and specificity. BioMed research international 2013 340620 [DOI PMID]
Cordero F, Beccuti M, Donatelli S, Calogero RA. (2012) Large disclosing the nature of computational tools for the analysis of next generation sequencing data. Current topics in medicinal chemistry 12(12) 1320-30 [DOI PMID]
Lorenzato A, Martino C, Dani N, Oligschlager Y, Ferrero AM, Biglia N, Calogero R, Olivero M, Di Renzo MF. (2012) The cellular apoptosis susceptibility CAS/CSE1L gene protects ovarian cancer cells from death by suppressing RASSF1C. FASEB journal : official publication of the Federation of American Societies for Experimental Biology 26(6) 2446-56 [DOI PMID]
Dani N, Olivero M, Mareschi K, van Duist MM, Miretti S, Cuvertino S, Patane S, Calogero R, Ferracini R, Scotlandi K, Fagioli F, Di Renzo MF. (2012) The MET oncogene transforms human primary bone-derived cells into osteosarcomas by targeting committed osteo-progenitors. Journal of bone and mineral research : the official journal of the American Society for Bone and Mineral Research 27(6) 1322-34 [DOI PMID]
Cordero F, Beccuti M, Arigoni M, Donatelli S, Calogero RA. (2012) Optimizing a massive parallel sequencing workflow for quantitative miRNA expression analysis. PloS one 7(2) e31630 [DOI PMID]
Riganti C, Pinto H, Bolli E, Belisario DC, Calogero RA, Bosia A, Cavallo F. (2011) Atorvastatin modulates anti-proliferative and pro-proliferative signals in Her2/neu-positive mammary cancer. Biochemical pharmacology 82(9) 1079-89 [DOI PMID]
Temi di ricerca
My research experience was devoted to the development and optimization of analysis workflows and in mining transcription-based experiments, mainly in the oncology framework. An important aspect of my past and present work was the constant focus on new technologies (e.g. today single-cell and single-molecule sequencing) and their integration in our analysis workflows.
I started my journey in Bioinformatics in latest 90's when I developed a tool to simulate, for windows-based PCs, a molecular biology laboratory (Iazzetti, et al., 1998). My tool was used for at least a decade at University of Naples "Federico II" first and then in high schools to train students in the basic concepts of molecular biology laboratory practice.
In 1998 I established at University of Torino the Genomics and Bioinformatics unit (B&Gu). B&Gu is an interdisciplinary group devoted to the study of multifactorial diseases by mean of high throughput technologies - i.e. microarray, Next Generation Sequencing – and bioinformatics. Since then my interests moved to research topics in which computational approaches could be used to mine biological data (Accardo, et al., 2004; Iazzetti, et al., 1998; Lazzarato, et al., 2004; Olivero, et al., 2003; Ruggiero, et al., 2003). Those years were the period in which expression microarrays started to be an effective tool to investigate genes involved in diseases and general biological processes. I was involved in various studies in which microarray data analysis played an important role (Astolfi, et al., 2005; Calogero, et al., 2004; Cicatiello, et al., 2004; Quaglino, et al., 2004). In collaboration with the group of cancer immunologists leaded by Prof. Forni at University of Torino, I focused the work of my group on the identification of new targets for anti-tumor vaccination protocols (Calogero, et al., 2007; Calogero, et al., 2008; Cavallo, et al., 2005; Cavallo, et al., 2007). Because of my experience in microarray data analysis, my group was involved in a large number of collaborations in Italy and abroad (Berkofsky-Fessler, et al., 2010; Bosotti, et al., 2007; Murphy, et al., 2007; Sassano, et al., 2009; Saviozzi, et al., 2009; Spugnini, et al., 2006; Volante, et al., 2007). It is notable that, using gene expression microarrays, we were able to identify for the first time the presence of coding transcripts in circulating blood vesicles (Bruno, et al., 2009; Deregibus, et al., 2007; Herrera, et al., 2010), today a very hot topic in the field of biomarker discovery.
More recently, I focus my research on single cell technologies data analysis and mining (Rodriguez-Fraticelli et al. 2018, Alessandrì et al. 2019, Christodoulou et al. 2020) and bioinformatics workflows reproducibility, founding the Reproducible Bioinformatics Project (http://www.reproducible-bioinformatics.org/, Kulkarni et al. 2018)
Since I started my research career as molecular biologist, I am convinced that genomics/transcriptomics data analysis, at least to some extent, should be placed back in the hands of wet biologists, thus it is more than a decade that I am involved in training of PhD and Post-docs in the transcriptomics field, running courses at University of Naples first, then at University of Turin (Sponsored by Affimetrix first and later by lllumina), at EMBL-Heidelberg, DUKE-NUS in Singapore and Italian Institute of Technology in Genova. Thus, with my group I have developed tools to simplify data analysis for microarray first (Sanges, et al., 2007) and then for Next generation sequencing (Beccuti, et al., 2017; Beccuti, et al., 2018, Alessandrì et al. 2019).
Gruppi di ricerca
Bioinformatics & Genomics Unit
Gruppi di ricerca